Welcome to Thread STL's "Our Team" Page!
Please refer to our histroy & team below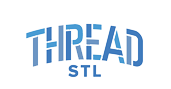 As the bedrock of UMSL's Community Innovation and Action Center (CIAC), Thread STL's emerging portfolio of strategies seeks to strengthen our region's many community partnerships and coalitions. Thread STL is a community of practice that brings together partnership leaders for facilitated peer-to-peer connection, coaching, and problem solving. This community includes over 200 practitioners representing more than 100 partnerships from across the St. Louis region.
Founded in 2015, Thread STL was created by and for community change makers. Members share a commitment to community partnership as an expectation for sustainable, impactful community change, as well as a commitment to learning and development. Thread STL primarily seeks to serve those whose role is to lead or manage a community partnership—in a full-time, part-time, or unpaid capacity—and those who provide crucial resources to support community partnerships, including funders, advocates and advisors. It is governed by a  Steering Committee comprised of Thread members.
CIAC staff serve dual roles at Thread STL with Kiley Bednar serving as the Director of Partnership Performance with support from contractors and practicum students. Learn more about UMSL's Community Innovation and Action Center here.
Chancellor's Certificate in Community Partnership and Coalition Leadership
The University of Missouri-St. Louis offers a Chancellor's Certificate in Community Partnership and Coalition Leadership. This program will provide content knowledge to build the competencies and skills of aspiring and current community partnership leaders in the region. Courses will cover everything from the history of community partnerships and coalitions to partnership evaluation, giving practitioners an opportunity to learn while doing.  For more information, please contact Kiley Bednar at klbn2v@umsystem.edu 
Thread STL Staff
As CIAC's Associate Director of Partnership Performance, Kiley leads and oversees a growing portfolio of strategies to build the strength of our region's many community partnerships and coalitions, including Thread STL. A St. Louis native, Kiley comes with more than 20 years of experience in youth development, education, and social service administration.
Most recently, she served 10 years with the Forum for Youth Investment, providing training and technical assistance to state and local leaders working to get young people ready for life. Through the Forum's David P. Weikart Center for Youth Program Quality, she supported out-of-school time partnerships throughout the U.S. in building systems to measure and improve the quality of their youth programs. Prior to this, she oversaw the Forum for Youth Investment's training programs – including the Ready by 21 webinar series and the Ready by 21 Institutes – as well as coordinated the national Children's Cabinet Network for statewide coordinating bodies.
As a technical assistance provider at the Forum, she led community engagement efforts, data communications, and strategic planning for cities and states focused on better aligning their efforts around improved child and youth outcomes. Kiley received a Master of Arts at the University of Chicago's School of Social Service Administration and is a National Board Certified Health and Wellness Coach.
As the Evaluation and Learning Manager, Burnea partners in learning, evaluation, and continuous quality improvement. Burnea will build on the supports developed with Thread STL, the peer learning network for partnership leaders in the St. Louis region.
Burnea brings over a decade of experience in catalyzing organizations and people to most effectively do their work — empowering staff and students through key performance indicators, coaching and training. She has developed expertise in project and relationship management, strategic planning, data systems, and higher education administration. She is honored to bring these experiences with her in her role as Evaluation and Learning Manager.
Burnea has served several prominent organizations including Concordia University Chicago, Adtalem Education Group and Enterprise Holdings. She is a Coro Women in Leadership FOCUS St. Louis Alumnus and received an undergraduate degree (B.S. in Broadcast Journalism) from Northwest Missouri State University, a graduate degree (M.A. in Media Communiciation and Media Literacy) from Webster University and a graduate degree (M.A. in Higher Educational Leadership) from the Keller Graduate School of Management, Chicago.
Beyond these significant accomplishments, Burnea is a co-founder of MillenialU, a training ground for emerging young leaders, as well as co-founder of Art of Adaption, a training platform for teaching and training on diversity, equity and inclusion.